soil stabilization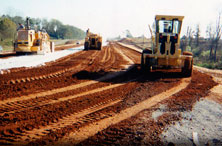 Stabilization permanently alters the soil.
Stabilization gives support to pavement layers resulting in a higher load bearing capacity, which offers a potential reduction of base and pavement materials.
Stabilization protects against erosion from water, which reduces pavement failures and extends the life of the pavement.
Stabilization gives integrity to marginal soils, which avoids an expensive and time-consuming removal and replacement process during construction.
When your road, runway/taxiway, or site development project calls for stabilization, call Pozzolanic. We are committed to helping highway and site contractors achieve project success, proven by our solid record of quality construction and dependable service since 1982.